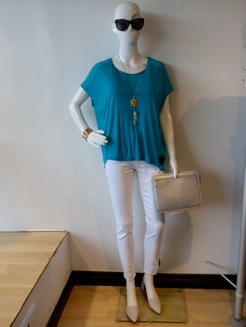 We've all been there. That sinking feeling. That moment when you look in your closet, see it packed from one end to the other but you can't find anything to wear? Let's add on the dynamic of having to leave the house in 5 minutes!
let. us. help. you.
What we love, love, love to do is help your girls find something to get out of bed for. The feeling you get when you put on a trendy outfit head to toe and you feel like a rock star…. that's what we like to create for you. Our favourite experiences are when you come in and let us dress you a new style – something you haven't tried before.
Right now we're outfitting clients in skinny bottoms (Lysse luxury leggings or JUST USA skinny high rise jeans), a modern flat (Chinese Laundry's Easy Does It is perfect) and large unstructured blouses. We top it off with a statement necklace. It replaces the low rise denim and long fitted tees topped off with hoodies.
So the next time you have that sinking feeling, come and see us, we will be so happy to help you find something that puts a little extra swagger in your step.
Happy Spring!