My story started off lucky, I was born in Canada. Raised by polite, calm parents in a small town, my Mom taught me how to sew and knit at 8 years old.  Dad would sometimes take Mom and I to Vancouver where we would roam fabric and clothing stores. I pored over fashion magazines. Around 14, I knew what I wanted to do but I couldn't draw and I thought drawing was something you were either born with or without. I felt 'without'.  I didn't think I could be a designer. So I went a different way, business school. It led me into politics, call centres, account management and marketing departments.
In 2008, after nearly 15 years in telecom, I parted ways with the industry. I knew it was time for THE left turn I had tried to deny for decades. I had always wanted to design clothes.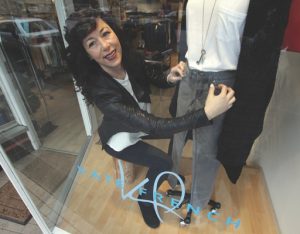 Long story short, Brittanie and I moved to Los Angeles so I could go to fashion design school. It was a big move. I was nervous but I was more afraid of what would happen to me if I didn't try. I didn't want to spend the second half of my life working in the wrong direction. That's hard living.
In design school, Mrs. Riegelman had us write down our list of favourites (colour, song, movie, dinner, designer, etc). I didn't realize the power of it until I saw other students' lists. That day I got a visual of how the small details make us unique.
It made me contemplate what we each put into a lifetime. Some of us know early what we want to do when we grow up. Some spend a life time searching. Some grow up in war-torn countries. Some grow up in relative peace. Some spend a lifetime wanting things that never come, some seem to have everything and still find company in misery. Some find love early, some find heartbreak. Some read the signs well while others run away from them.
The Fashion Institute of Design & Merchandising was everything I hoped it would be and more. My instructors worked for Michael Jackson, Ralph Lauren, Halston, Albert Nippon. They taught me how to DRAW and make patterns and mix colour. I learned how to put a collection together. I graduated Summa Cum Laude. Dad and Christy flew down for my grad at Staples Center. Mom had to stay home, battling cancer. She and I cried a lot on the phone that day. She was the reason I wanted to design clothes. I owe her so much.
In 2011 we lost Mom. Tears, lots of tears. I often look to the sky and tell her I miss her.
In 2012 I opened Kate French Wear. I have spent the last four  years learning about the fashion business. Managing a retail boutique is demanding. Still, I hope to start my line someday. In the meantime, I spend a lot of time curating looks for our clients. I like a modern aesthetic, subtle sophistication, beautiful fabrics cut in curated patterns. A little bit of junior fashion, a lot of women's wear, the odd piece for the missy client. Something for everyone. It would be my pleasure to meet with you any time to put together a range of new looks for you.
And that is my story. I hope to hear yours someday soon.
Warm regards,
Kathryn
"And the day came when the risk to remain tight in a bud was more painful than the risk it took to blossom"
–   Anais Nin