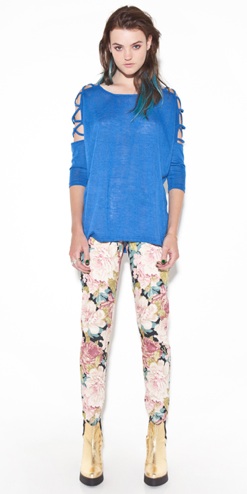 I recently did a buying trip for Spring 2014. Buying trips grow my perspective on micro trends that last a season or two, and macro trends that can last years, possibly decades. Right now we're in a skinny bottom macro era, likely combined with a high rise macro era. I first noticed it in LA, 2010. American Apparel took out huge billboards for the high rise skinny jean. It's starting to pick up steam and will likely stick with us for a good decade. I think back to Toronto, 2006 when flare pants came back. I would say they were still available until last year at many major retailers. Let's call that a 15 year stretch.
What I like about the high rise skinny is what it does to the create vertical line. When the legs look thin, we look taller. The top can be full and straight without darting or belting and the line will be uninterrupted from head to toe. If you stack that with a bun, toque, a choker necklace or a long strand, it would be an enhanced vertical line. The low rise cuts us horizontally at the wider part of our body. That creates horizontal line, not the most flattering for 90% of us.
I don't like new cars. It takes me a long time to warm up to the design. But once I do, I can appreciate the elements of design involved. I suspect that it will take some of us time to warm up to the concept of the high rise skinny. But we'll likely have a decade to do so. Next up, shoulder pads.
p.s. you can always come in and play with our skinnies. We love to help find what works for you. If the Mink Pink floral denim skinny (left) is too patterned, we have all the solids covered for you too.