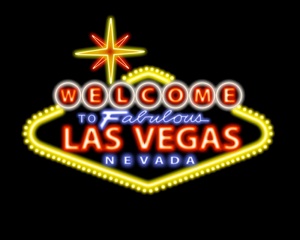 I went to Magic (and all it's compadres) last week in Vegas with Kathy (of the most excellent Modest Goddess). I don't really know where to start. It was overwhelming.
Magic is the wholesale fashion tradeshow, possibly the largest in the world. Imagine football fields of clothing, shoes, accessories, spread over 3 convention sites (because 1 doesn't even come close to big enough to hold all the samples). Then imagine hour long lineups at Starbucks in the morning just to get the coffee you so desperately need to counter the effects of the previous night (what happens in Vegas….). Then layer onto that 4 straight days of walking from 9am until 6pm or even later in our case. Last but not least, you need to layer in the most stylish people concentrated in one place at the same time. And it's all in Vegas baby where the taxi cabs play Steve Winn's video extolling the virtues of the Winn hotel (who is this guy??); where people smoke EVERYWHERE indoors and; casinos pump "perfumed" air into the buildings… so kind of them.
Enough digression. Here are my takeaways from the show:
the assymetrical, aka the hi-low, aka the mullet hem is not going anywhere for a while. So invest now and a year from now you'll remember you were an early adopter.
wedges too are not going anywhere. The soles are getting more interesting (clear acrylic or textured soles for example)
chiffon anything (silk, poly, you name it)
plasticized, coloured and graphic denim. Ooh la la. Ours will be here soon so save some room in your fall shopping budget for this one. We found some amazing stretch ones.
NEON. If you don't love it, put a little neon green cami under a white shirt. You'll be on trend without competing with the local neon billboards.
Platform Oxfords. With rolled up, coloured, skinny jeans and button down collared shirts. 50s revival.
digital print bottoms and dresses, ooh-la-la
The general look is anything long and skinny on the bottom and large oversized tops. Dresses are either 50s revival or feminine and flowy with the hi-low hems. Chunky heels a must to make it all look more like 2013 than 1983.
I can hardly wait for our orders to come in! It was so fun to buy for fall and spring and I hope you will enjoy some of the pieces we bought for you all. So, there you have it. Magic, Project, Pool, Platform, Vegas, Kathy and me. I want to thank Kathy for being such a great travel partner and a amazing person all around. (Oh and if you come to the store ask Kathy about our new pal Pamela).