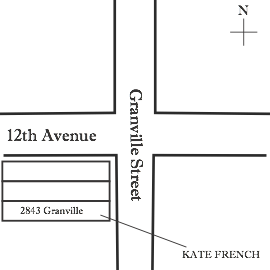 Almost four years ago now, I opened my door on 4th Ave West in Kitsilano. That door was closed a week ago today. And on Friday, we opened our new door on 2843 Granville Street.
Being the sap that I am, I want to take a moment to thank Kitsilano. The people I met, the experiences we shared, the outfits we created, the puppy treats we handed out, I will be forever grateful for your warm welcome and personality. I will miss my wonderful neighbours and wish them all the best in their relocations.
We hope to see you soon at the new location. It has a completely different feeling, a little more French Contemporary, thanks to Ally Spino Designs. Fresh paint, floors, sconces etc. Not to mention all the new clothes that we put out over the last few days.
Frank from L'Atelier Patisserie made us some welcome chocolates. I hope you can stop by to say hello very soon and have a little bonbon. Don't make me miss you for too long.
A votre service,
Kathryn