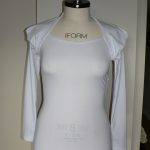 She walked in with a halo over her head and sunshine radiating all around her. If this works out, she will be my newest best friend, my hope, my angel. Introducing Melissa.
Melissa is a pattern maker and seamstress. She was referred to me by my favourite tailor Lanni, one of the sweetest people in the world.  Because Lanni was amazing, I have hope for Melissa. She showed up on time so we were off to a good start. I showed her my pattern block, my dress form, my progress to date. I told her how difficult the process has been so far to find a good pattern maker and production team (here or overseas). She took one look at my pattern and knew where the dart would end, ½" from the awl hole. Yayyy! Inside of 10 minutes, I could tell she knows what she's doing.  The lingo, the pitfalls, she didn't miss a beat.
I tore 2 meters of muslin (inexpensive fabric that designers use to make samples to test for fit and design accuracy), rolled up my pattern block (the pattern template that all future patterns will be based on)  and asked her to make a sample so we can test the block on the mannequin (you'll hear my jaw hit the floor if it doesn't fit, because I got 100% on that pattern in school).
I asked her if I should order my labels. It was a direct question of her confidence in getting production done. With the perfect balance of reflection and confidence, she said yes.
Stay tuned for the next episode ….