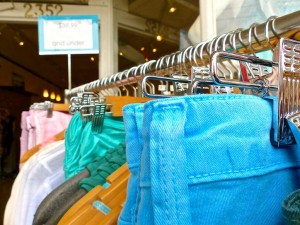 If you haven't updated your wardrobe in a few years, it may be time to look critically at your wardrobe and see if it needs an update. (I'll give you one hint, if you are still wearing boot cuts … ). I recommend you start with one entire outfit. One new outfit will do a lot to make the most of what you currently have more trendy.
Buy a new pair of every day shoes. Something that you can wear with a skirt, jeans and dress pants. My favourite is the Miista ankle booty that should arrive this week. A pull-on with a nice modest almond toe, good quality leather and flat (no heel) should work with most of the bottoms you throw at it.
Move on up to the bottoms. Right now we're on pencil midi skirts, below the knee and high-waisted. Or skinny jeans with a little ankle roll (optional on the roll). If you don't want to spend money on new jeans, have your bootcuts tailored. Office-bound? Think tapered dress pant, not straight leg, again, back away from the boot cuts.
Get a blouse. Not a tee-shirt. A nice georgette crepe would be great. I prefer a boxy button up with a stand up collar that I can layer with sweaters but a simple crew neck that supports a necklace is equally good. Your new blouse will work the same way, bringing some of your other bottoms into the trend zone.
Hair: short-mid length hair for fall 2014 is all about the bob. And it looks consistently like a reverse cut (shorter in the back). Long still seems like a flowy easy curl or a loose bun on top. Sheryll at Opus in Yaletown is amazing for new styles and really reasonable. Tell her Kathryn sent you, to get $20 off your first cut.
As budget allows, you can layer in accessories and more options in each category. Let me know how that extra bounce in your step works out for you!